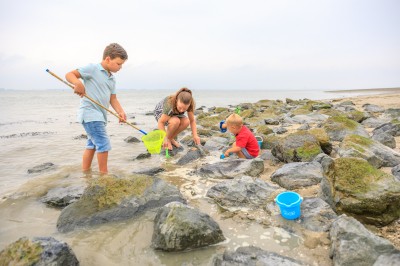 It is a man-made beach consisting of squirted on sand. At ebb, when the water is low, a part of the beach becomes dry. This area then partially consists of a layer of mud.

Nice for the kids, because if they are normally not allowed to play in the mud here they are allowed!
And did ythey get a bit dirty? No problem, just rinse it off in the water or under the shower at the beach!
Playing
The 'Scheldestrandje' is a fantastic place for the children to play: building sandcastles, splashing in the water… they can really amuse themselves here. And did you know that if you really look hard in the sand you may find a shark's tooth?
The dyke is a very good place to fly your kite as there is always enough wind here. There is often not enough room to do this at home, but there is plenty of space here!
Have a look under the stones at the waterline. Lift up the stones a bit and you will see lots´s of crabs! Do you dare fetching them? But you have to be quick because they are gone again quickly!
The animation team is also here regularly on the dyke with great activities such as the mud run, baking baguettes or games.